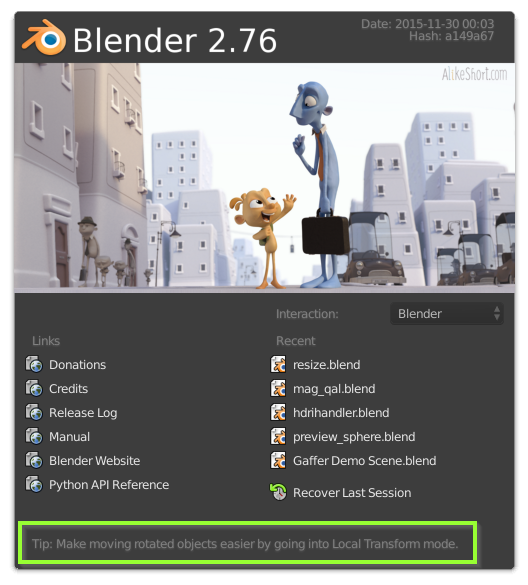 You know that box that pops up every time you start Blender? The one with the pretty picture and a list of your recent blend files? That's the splash screen.
There's a little add-on hiding in the Testing section that shows a random tip at the bottom of the splash screen every time you start Blender. Campbell added it after a short discussion with the UI team earlier this year.
Quite simple, but quite nifty :)
Some of my favourite tips:
Press F5 over a sidebar or a header to flip it to the other side of the window.
Press E with the mouse cursor over an Object Selection Field to activate an Object Picker.
You can make objects appear and disappear by animating their Layer Relation. Edit: Not possible anymore?
Shift-Click any folder icon to open that folder within your Operating System.
Ctrl-C over tools & menu-items to copy the Python command.
Maybe you can think of some more tips we should include in this add-on? Just post them in the comments below and I'll chat with Campbell sometime :) Here's a list of the current ones.